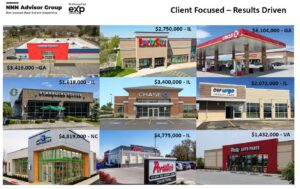 The single tenant NNN real estate market is changing rapidly which presents both challenges and opportunities for buyers and sellers. Understanding the current market conditions is critical for investors looking to capitalize in today's market whether you're buying, selling, refinancing, or adjusting your expected hold period.
Demand for NNN properties remains strong, however overall velocity is down from 2022, borrowing costs are higher, listed properties are taking longer to clear the market, cap rates are expanding at differently rates depending on tenant credit strength and other lease and location attributes, and there's a wider gap between the bid/ask among buyers and sellers. This is a target rich environment for opportunistic investors because it creates greater inefficiencies in the market and allows both buyers and sellers to leverage their strengths to a greater extent.
While the likelihood of a U.S. recession is difficult to predict, it's worth considering the potential impact it could have on NNN properties. During times of economic uncertainty, investors tend to prioritize assets that provide a stable, predictable source of income. NNN properties may be attractive to investors seeking to weather a potential recession.
None of us has the perfect crystal ball, however it does appear that inflation has peaked and while it may remain elevated from a historical context, inflationary pressures may actually benefit the NNN market. Most NNN properties generate predictable income streams over a long-term lease with scheduled rental increases. As inflation rises, the rental income from NNN properties is likely to increase, helping investors stay ahead of inflation. Additionally, the predictable returns from NNN properties offer refuge from stock market volatility.
It's also worth noting that the current market conditions may present opportunities for creative deal structures. Seller financing, creative buy-side offers, transaction timing and more that cater to a buyer's or seller's needs all generate value that can be important in the negotiation process.
If you're looking to make moves in this kind of a transitioning single tenant NNN real estate market, it's important for buyers and sellers to work with a qualified and experienced broker who can navigate the complexities of the market. A knowledgeable broker can help investors identify high-quality properties that meet their investment goals, negotiate favorable terms, and provide ongoing support and guidance throughout the investment process.
Wrapping it up, the NNN market is significantly more nuanced than it appears on the surface. Reach out to us any time so that we can discuss your goals and the best and most profitable way to exceed them in this transitioning market.
We've been doing this for 15+ years and have the perspective and deal track record to ensure you get the right advice that balances your risk/reward objectives. We are expert single tenant net lease brokers. Let us help you accomplish your investment objectives.
Buying and Selling NNN Properties in Today's Transitioning Market